Thinking about taking your family on a trip to the Great Sand Dunes National Park? I've only got one thing to say to you… Do it!
Is Great Sand Dunes National Park Good for Families With Kids?
I know how it is. You took your kids to see some of the greatest attractions in the world including U.S. National Parks. Some of them they really appreciated, others not so much. One of the big issues is that often National Parks can be pretty stuffy and delicate.
Yellowstone National Park is a wonder to behold, but you can't step off of the paths near the geysers, and some of the pretty colored lakes will actually dissolve your flesh in acid! Plus the traffic can be awful.
Check out the reviews of Digit.
The Grand Canyon was awesome… for 10 minutes, then it's just more rails to keep you from falling into a giant hole in the ground.
The drive up to Mount Rushmore was fine, thanks to iPads, but it doesn't take long to see four faces carved into a rock. Thank goodness for the pool with waterslide in the nearby town.
Hope you were fortunate enough to reserve your ticket to climb to the crown of the Statue of Liberty six-months in advance.
And so on.
So, what if I told you, at Great Sand Dunes National Park, your kids can run WILD? They can go anywhere. They can step on anything.
Want to dig a hole in the dunes?
Go nuts!
Stomp on the tops?
Do you.
Sled down the face of a steep sandy hill?
Boo ya!
Sand Dunes Repair
Turns out that the same winds that built the sand dunes in the first place constantly blow shaping, and reshaping the sand dunes. All the "damage" that you can do on your trip will simply be blown away during the next night or two. You never have to say:
Don't touch
Stay on the path
Leave the animals alone (you can't catch the few that are there)
Be careful
Don't run
Don't put that in your mouth… well, maybe that one.
Sand Dunes Sledding
The most fun you can have on the Sand Dunes is sledding down them. There is a catch. A regular sled, or wax paper, or cardboard, or whatever you think of, will NOT work.
Suck it up and rent a sand sled, or sandboard, in Alamosa when you grab dinner or breakfast, or whatever. No they aren't cheap, but if you cheap out on this, you're going to be very disappointed.
Oasis Store (outside park entrance) rents equipment from spring through early fall, 719-378-2222
Kristi Mountain Sports in Alamosa (35 miles from the park on US 160), open year round, 719-589-9759
Sand Dunes Swimming Pool near Hooper (32 miles from the park on CO 17), open year round, 719-378-2807
Mountain View Motor Inn in Fort Garland (32 miles from the park on US 160), open year round, 719-379-2993
Find out – do savings bonds expire?
Sand Dunes Family Tips
Your kids aren't going to want to do it all day, so have some plans for the second half of the day based on whatever your family usually likes to do on vacation.
Go early. It can get stupid-hot out on the Sand Dunes and dragging a sled back up the hill in 100 degree heat is not fun.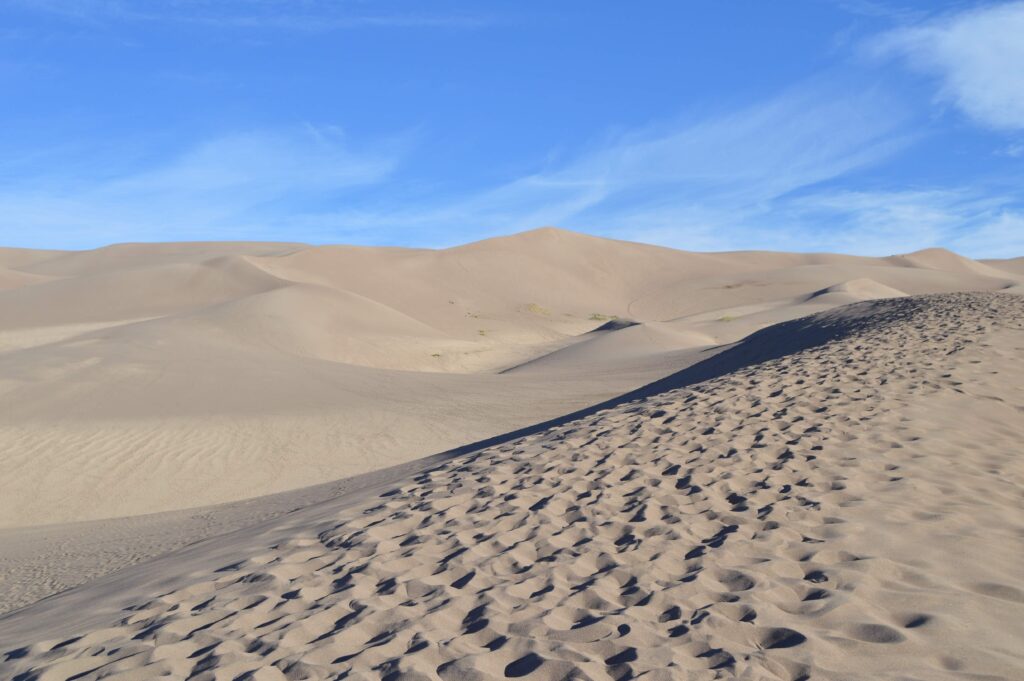 Great Sand Dunes National Park and Denver
It would be a stretch to call the Sand Dunes a day trip from Denver. It's a four-hour drive each way. You'll really want to stay in a hotel somewhere either on the front or back end, and maybe both. We usually drive down, stay in a hotel that night, spend the next day on the dunes, stay in a hotel that night, and then head out the next day. The Sand Dunes are a great weekend trip from Denver, or if you're doing some of the other Southwestern Colorado attractions like Mesa Verde, it can be a great add-on.
When it comes to hotels, there is only one hotel right near the national park. It's called Great Sand Dunes Lodge. (I haven't been in a few years, but after we go this fall I'll post a review.) If you can't stay there, you'll be in a town a half-hour or more away. Be sure to pull out Google Maps before booking your stay.
The Sand Dunes makes a great fall trip thanks to lower heat, and the mosquitos all disappearing (not enough water). Later, you can go to Disneyland for Halloween.